Tahini er i all sin enkelhet purée av sesamfrø, og er vel mest kjent for å være en del av hummus. Det er flere måter å lage tahini på, men i all hovedsak kan man skille mellom to ulike retninger. I midt-østen brukes kun skallet på frøene, mens man i Asia benytter hele frø. Bruker man hele frø vil man få en litt bittrere smak på blandingen. I Asia er tahini mest brukt i Kina, Korea og Japan.
Ã… lage tahini er i seg selv veldig enkelt, og du trenger kun to ingredienser.
1 dl Sesamfrø
3 ss olje (smakløs eller sesamolje)
Noen har i litt salt
Noen har i litt hvitløk
Rist forsiktig sesamfrøene. Enten noen minutter i stekeovn på rundt 150 grader, eller i en panne. Pass på at de ikke blir brune
Deretter handler det om å knuse sesamfrøene. Bruk en morter, eller en foodprosessor. Bruker du en foodprosessor bør du la denne gå en god stund for å være sikker på at du har fått knust alle frøene godt nok.
Tilsett oljen litt etter litt, og stopp når du ser at du har fått en tyktflytende puré.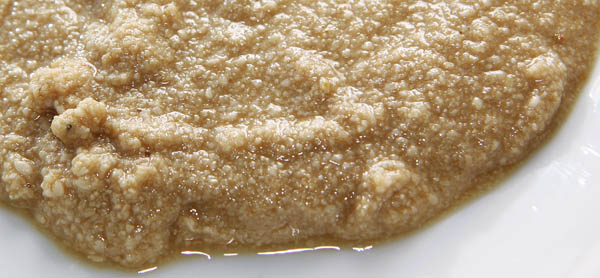 Smaken du ender opp med minner litt om peanøttsmør, men det er litt mer bitterhet. Tahini er ikke spesielt egnet til å spise helt for seg selv, og du bør nok satse på å blande dette inn i en eller annen rett. Uansett er det alltid hyggelig å kunne lage noe selv isteden for drasse hjem med et glass fra butikken, og et tips på hva du kan bruke tahini til finner du her.